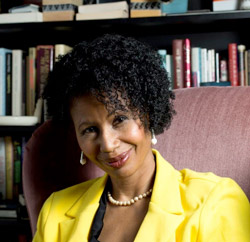 I was raised in a close-knit family of 7 children in a vibrant middle/working class neighborhood of West Philadelphia. My father was an entrepreneur with politics in his blood—he served two terms in the Pennsylvania State Senate. My mother was an audacious home-maker and then school assistant. They were both masterful storytellers, knew how to work a detail until you could taste it. I hear them even now when I write. I attended public schools in Philadelphia and then the University of Pennsylvania where I majored in English, earning a bachelor's degree. My first position out of college was press secretary for the president of Philadelphia City Council. I married my childhood sweetheart, Greg Whetstone, gave birth to twins—a daughter, Taiwo, and a son, Kehinde–now 33.
I worked as a public affairs officer for the USDA Forest Service where I was charged with making the research results palatable for lay audiences. I had a penchant for turning news releases into dramas, brochures into stories. I became increasingly unsettled in my late thirties as I tried to ignore the internal thunder that was telling me to write fiction. I yielded finally. I began getting up at 4:30 in the morning because that was the only time of day I owned exclusively. I wrote until it was time to get the children up for school. They were often late during that period; I was missing work with regularity; my husband thought I was having a breakdown; it was messy, frightening, and exhilarating.
I joined the rigorous Rittenhouse Writers' Group. A grant from the Pennsylvania Council on the Arts nudged me to take leave from my day job. I completed my first novel, Tumbling, and within a week of acquiring a literary agent, I signed a major publishing deal with William Morrow. Tumbling was published to much acclaim.
After pushing through the clatter—the sudden success, the book reviews, the contract for the next novel, the deadline, the self-imposed expectations to make the second even better—I settled down enough to write Tempest Rising. The second was actually more challenging than the first. The reward was greater too—freedom from the fear of being a one-book-wonder. Blues Dancing followed, then Leaving Cecil Street, and Trading Dreams at Midnight. Both Leaving Cecil Street and Trading Dreams at Midnight won high honors from The American Library Association.
I was invited to teach fiction writing at Penn, and was a lecturer in the writing program there for 12 years. I've written for Essence Magazine, Philadelphia Magazine, and my short fiction has appeared in the anthology Blue Light Corner, and will also be included in Rittenhouse Writers, a new book by James Rahn, who founded the Rittenhouse Writers' Group.
In my latest novel, Lazaretto, I return to doing what I most love to do: telling stories of everyday people existing in families and communities; characters faltering, yielding to their desires, falling, fighting, climbing, reaching for their better selves.